Moderator: Mikewire
n00b...

Posts: 9
Joined: May Fri 14, 2010 8:14 pm
Vehicles: 1998 TDI Jetta, 1988 NA Diesel Jetta
Location: Bozeman
My Mk2 Jetta has a slight but noticable steering wheel shake at 55-65 mph. I had the tires rebalanced- no luck. I have very little experience w/front end issues. Where do I go from here? If I can't figure this out, which shop do you reccomend in the Bozeman area?
---
Euro Addict!!!

Posts: 1376
Joined: Jul Sat 18, 2009 6:18 pm
Vehicles: 00Passat2.8.toy
05 silvarado1500
Location: Great Falls Montana
Contact:
tie rods or bearings........... is my next guesssss.. mabey ball joints....
My wagon ant fast just gets Groceries fast.....
WAGONS NEED LOVE TOOOOOOOO!!!!!(quoted the wife)

VW,
Yes it is Fast,
NO, you can't Drive it!
---
The Dubfather

Posts: 4166
Joined: Nov Mon 06, 2006 5:21 pm
Vehicles: 84 GTI, 97 GLX, 04 Touareg V6
Location: ZooTown Represent!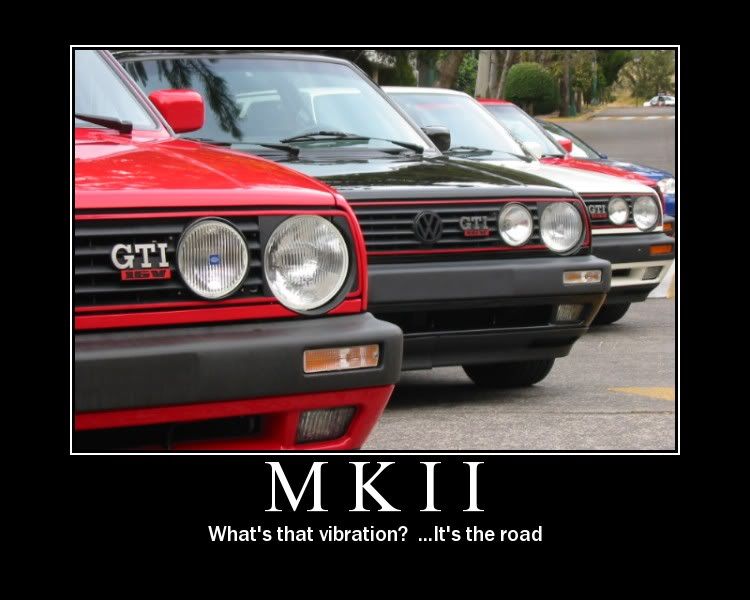 Jd3 wrote:Once again I was slangin rocks and pimpin bitches. Got a degree from the streets. Listen to the song regulate by warren g. I wrote it.
MikeWire wrote:Vanilla Ice > Depeche Mode.
Captain Pajama Shark
99% Awesome 100% of the time!!
1.8/2.8/3.2 OEM+
You can pay for school, but you can't buy class!
---
Euro Addict!!!

Posts: 2718
Joined: Dec Sun 17, 2006 11:46 am
Vehicles: 70 dzl-camper
20VTMK2GLI
A8L, Ubaru, RAM
Location: Fraggle Rock
Have you tried switching your front wheels to the back? Maybe take a look at your axles too.
It's not how fast you go. It's how well you go fast.
---