1984 Rabbit GTI
152,000 original miles on motor.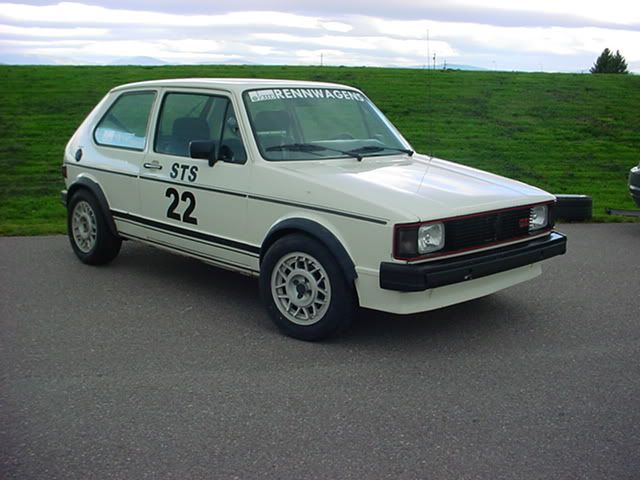 Existing;
16V TB
K&N Filter
P&P MK1 Fox intake Manifold
Black header
TT/Borla header back 2.25 exhaust
Autotech short shifter
All new coolant hoses, low temp thermo, low temp fan switch
HOR tech springs
Wietec Ultra TX adj. shocks
One-off lower front stress bar
One-off upper rear stress bar
Prothane engine mounts
Autotech chassis/suspention bushings
SS brake lines
MK2 front big brakes
New grille/headlight bezels
H4 conversions w/city lights
Smoked front turn signals
PIAA Extreme white H4 bulbs
PIAA Sporza Graphie wiper blades
PIAA Sports horns
Sparco Speed seats on 16V power seat bases (race seson)
VW MK2 GLI Trophy seats on 16V power seat bases(off season)
Sparco Clubman harnesses
Pioneer DEH-P3000IB CD Headunit
Memphis Car Audio PR class speakers
Newly painted GTI stripes and rear hatch panel, and side mouldings
Falken Azenis RT-615 tires on MK1 Snowflakes(race season)
Falken Ziex 512s (off season)
H&R 20 mm rear wheel spacers
MK1 aluminum bumpers painted black and shortened
I am sure that there are a few more things, but I forget sometimes.....
Soon to come;
TT G-grind or mild cam
TT Adjustable cam gear
Rear disc brakes
2006 Big Sky Region 38 SCCA STS Autocross class champion!
2007 Big Sky Region 38 SCCA STS Autocross class champion!
Thanks to my sponsors, Fulmer Helmets, Memphis Car Audio, Warrior Auto Works!